Wild Birds Unlimited Advanced Pole System
Our patented Advanced Pole System (APS) is a revolutionary concept and the foundation for successfully attracting birds to your backyard. Comprised of interchangeable hardware pieces, the APS lets you select the setup that best suits you and the habitat in your own backyard and the birds you want to attract
.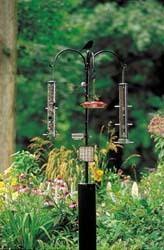 How Does It Work?
It's easy! Just insert a screwdriver into the hole at the middle of the 4-foot base pole and twist it into the ground using the convenient corkscrew auger connected at the bottom of the pole. Next slide the Stablilizer onto the Base Pole and push into the ground.
Get Creative!
Create your own unique setup by selecting the bird feeder, nesting box or birdbath options you want. The APS parts fit together easily, and no special tools are required. Birds will flock to your new APS station in no time!
It's Flexible!
Change your birdfeeding station according to the season. Add hummingbird feeders or finch feeders in the spring. Add a suet feeder or peanut feeder in the winter to give birds an additional source of energy. The APS was designed to accomodate all feeders with many accessories from which to choose.
Construct Your Masterpiece Today!