Basic Pole Mounting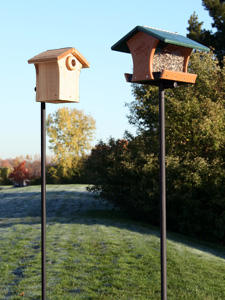 Our exclusive, patented Advanced Pole System® (APS) Basic Setup is the perfect beginning to your ultimate bird feeding, housing and/or watering station designed to meet your own individual needs. We didn't create the APS just to hang feeders - it can do all sorts of things, like mount nesting boxes and large hopper feeders.
Just twist the 3-foot base pole into the ground using the convenient corkscrew auger. Next slide the Stabilizer onto the base pole and push into the ground (Tests show the stabilizer holds the pole straight in up to 35 MPH wind gusts). Add a three foot extension pole and dual flange (specially-designed to mount birdfeeders or houses), and then top it with a bird house or with a hopper feeder.
Shown in this picture:
36" base pole
36" extension pole
large stabilizer
dual-mount flange
Chickadee/Bluebird house
WBU Classic hopper feeder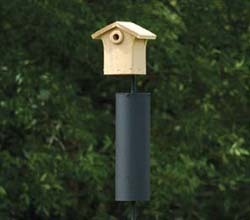 When mounting a Nesting Box, we suggest using a Baffle (shown at left with a Chickadee/Bluebird box) to keep critters away from the eggs and the baby birds safe. Here in the Southeast our main nest predators are Raccoons and the non-venomous Black Snake.